Teak is commonly use in the sector of furniture, shipbuilding, flooring and home interior decoration.
Teak has a good bending strength. Due to the compressive strength of the wood and its slightly oil content make it durable, termite and weather resistant. This oil content alone can protect the Teak from decay, insects and bacteria. This is one of the reasons that, unlike other woods, Teak is often used as the main material for both indoor & outdoor furniture. The finished products are smooth in texture, golden brown in colour and emits a distinctive and leather-like odour, as well as providing a very natural and comfortable ambience.
Teak Aesthetics And Characteristics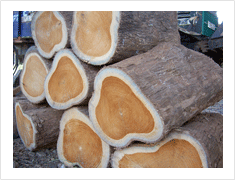 Teak is also known as the King of woods. The most salient characteristic of Teak  is its resistance to all kinds of weather.  Because of this,  it is also resistant to decay and easily repels insects. Teak wood holds its form over many years, even if left outside, and because of this it has often been used for the decking of ships – with its special aroma, cruise ships in particular. Teak is considered by mariners to be the most valuable and versatile hardwood. The beauty of Teak, its rich golden brown colour, its decorative grain and unique characteristics like its strength, stability, resistance to wear have made Teak the pillar for ship building industry.
Other characteristics of teak are its elasticity and solid fiber, both of which facilitate woodworking and the ability of woodworkers to create products, that are both beautiful and durable.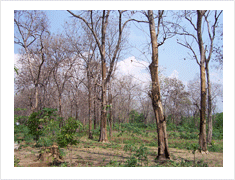 Another reason for the beauty of teak wood products is the special oil content in its heartwood,  which makes this wood always seen to gleam -  maintaining this glow even if it is left outside for a long  period of time. Additionally, Teak wood with its antibacterial characteristics will not become brittle. The owner of teakwood, therefore, will not even find it necessarily to add a preservative to keep it looking like new. Even so,  it can occasionally benefit from some polishing, or the application of some varnish, to enhance its natural beauty.
Teak Wood In The World View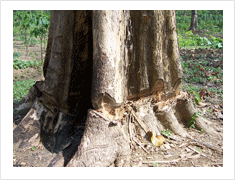 Through much of recorded history Teak wood has been relied upon and trusted for its uncommon strength. This wood is highly prized by wood lovers and collectors all over the world. Because of its rareness and the limited supply of teak in the world, teak is increasingly being sought after and its price has been increasing. It is well known throughout the whole world that furnishings produce from Teak are of the highest quality.
Wood hunters all over the world recognize the characteristics of teak, and always stop to look at Teak products, so reflective of our history and culture. The demand for this Teak wood has increased so much that all government has implemented a plantation program for teak suppliers entailing the cultivation, use, and protection of Teak trees. This is because the Teak is a perennial plant, and of great importance. Construction material and furniture that comes from Teak wood each have their own increasing market, as well as increasing value. Generally, Teak trees are harvested only after they have reached 50 years and above. The older Teak trees are the best ones to be cut. In fact, the older the Teak tree, the better will be the quality of its wood.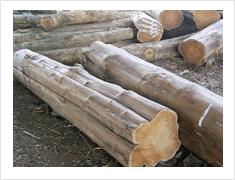 The strength and beauty of its fiber is the primary reason that Teak wood continues to be the main choice for indoor and outdoor materials. The desire for Teak products is increasing, both in our country and also abroad, but the supply is not keeping up because the growth cycle of the conventional Teak tree is very long. In fact, as the supply diminishes, the desirability for Teak products that have already been produced, often considered as collectibles.
On this page we have presented some pictures of: Teak cultivation, Teak forest, the "scratch" of a Teak tree, and others.